Patient Testimonials
Naperville Kindergarten Teacher Undergoes Outpatient Hip Replacement
Early last year, kindergarten teacher Lisa Simpson, 55, of Naperville was having trouble keeping up with her students at Beebe Elementary School. For a couple of years, she had been managing her hip pain with conservative treatment, but this time she knew something was really wrong.
"At my age, I just assumed I had bursitis or another type of inflammation," Simpson explains. "I was shocked to learn that my x-rays showed bone-on-bone osteoarthritis."
Simpson, not yet mentally ready to have surgery, opted to receive a cortisone shot to minimize the pain as much as possible. This treatment worked for a time, but after several months, she was moving so slowly and awkwardly at home and school that her boss asked her what was wrong. The pain eventually extended all the way down to her foot.
"I knew then that my pain was obvious to others, so I asked around for a good hip replacement surgeon," she says. "My close friend highly recommended Dr. Scott Sporer at Midwest Orthopaedics at Rush who is right here in Naperville. I liked what she said and what I read online."
She met with Dr. Sporer and appreciated his plan for an outpatient total hip replacement. He explained that younger patients like her are becoming more and more common. More active than earlier generations, they have put more wear and tear on their joints but want to continue their active lifestyles. They also appreciate the convenience of going home the same day as surgery and not missing much work. However, Dr. Sporer recommended that Simpson wait to have surgery for two months after her last cortisone shot to avoid an increased risk of infection.
"I agreed with Dr. Sporer's treatment plan, but the hip pain got so bad that I could hardly take it anymore," Simpson says. "My nights were the worst and the pain was 24/7. I had no idea pain was so exhausting."
Dr. Sporer prescribed medication for Simpson to minimize her pain until surgery could be safely done. Finally, the day came, and her total hip surgery at the Rush Oak Brook Outpatient Center was a success. It took less than two hours.
"My friends couldn't believe how well I did after surgery," Simpson says. "I came home and walked up the steps. The next day I had no pain and within days gave up any walking aids."
One month following surgery, Simpson gratefully returned to in-person classroom teaching. She also added fitness walking back into her regular regimen just a month after surgery. Simpson enjoyed the regular recovery texts she received from Dr. Sporer which reminded her to keep moving, do her physical therapy and let him know if she had any concerns.
Today, Simpson would tell anyone not to wait or be afraid to have a joint replacement. "I absolutely got my life back," she says. "I'm looking forward to retiring and being my active self again!"
---
Dr. Sporer's excellent surgical skills and abilities
Dr. Sporer did a total hip replacement and and bilateral knee replacement 3 years ago. The surgeries were nothing short of amazing. After the hip surgery, I was able to walk unassisted after 2 days and after having both knees replaced, I was able to walk without any assistance after 5 days. Dr. Sporer and his staff were superb throughout the whole process. The PT therapist at the facility I used also commented on the fact that Dr. Sporer's patients seem to recover much quicker than other doctors patients further highlighting Dr. Sporer's excellent surgical skills and abilities. The picture is from Jackson Hole (not an easy place to ski ), and I can attest that the only things that were not sore were the hip and knees that Dr. Sporer replaced. Dr Sporer is truly a gifted surgeon that gave me part of my life that I was not able to participate in. You will not have any regrets choosing Dr. Sporer as your Orthopedic surgeon.
Biff G.
Feb 21st, 2021
---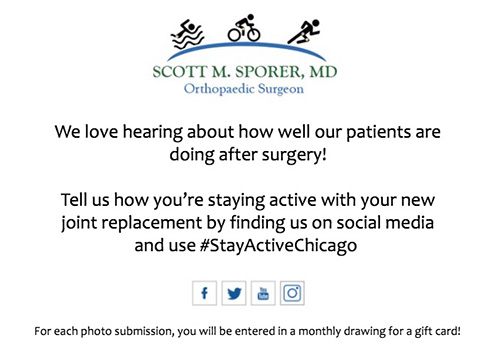 ---
9 Days Post Operative
---
I just wanted to thank Dr. Sporer for my new knee. One year ago this month and I am back to biking, golfing and a little bit of water skiing. Great surgeon and process. THANK YOU!
Paul I.
October 8th, 2020
---
I was released from Rush yesterday after having a total hip replacement. Dr. Sporer was a God-send and anesthesiologist and his assistants were out of this world with their caring manner as were the surgical staff and surgical nurses. This did not stop when I got to the floor. I can't say enough about the nurses and the staff. This is nothing new, however, it has been like this every time I have had surgery at Rush, world-class health care that is worth the drive from the south suburbs. It is clean, the staff is caring and professional, and your pain is controlled. The food is healthy and fresh, so my hat is off to all of you at Rush University Medical Center for being so caring and nice to your patients. THANK YOU SO MUCH?
Erin B.
Jul 13th, 2018
---
I had my hip replaced by Dr. Sporer on Nov 13th. I was # 1 of 7 he was doing that day. He is obviously a very popular surgeon, who is in great demand. For me, everything turned out perfect. My surgery was at 7:30 am and I was home by 4 pm. Absolutely no pain at all and I walked out of the hospital. I used a walker for about a week, and a cane for about 2 weeks after that. I only saw Dr. Sporer 2 times..... once on my initial consultation when he approved the surgery and scheduled it and again the morning of the surgery. All of my follow-up visits have been with his staff. I had no problem with this since my surgery was perfect and I had no complications. I was assured that if I had any complications, he would be more involved. I am so happy with the results of the surgery. I did not find it necessary to see the doctor for every visit. I felt that his time was better spent doing surgeries and fixing any complications. His staff was wonderful. Every part of this experience was wonderful. ( I should have done this sooner ). I would recommend Dr. Sporer and his staff to everyone. A nice touch they do was to send me about 3 texts a day showing me videos of exercises to do, and encouragement to continue. ( If you are reading this, I know you are doing research on hip doctors. Dr. Sporer is a good choice. Don't put it off any longer. I waited too long. He is very busy. It might be 2 - 3 months before you can see him, so contact him asap. )
David B.
Dec 29th, 2017
---
My primary doctor is now at Rush. So glad that Dr. Sporer is still there since he replaced my knees 9 years ago. I am now 76 and want him in place in case something else needs replacement. My artificial knees allow me to really enjoy life. I am grateful. I walk. I dance. I lift wieghts. I do yoga. I travel. I have moved to a third floor apartment without an elevator. Thanks again.
Saundra B.
Dec 22nd, 2017
---
2 Week Postop Hip
---
Still Active after Two New Knees and Shoulders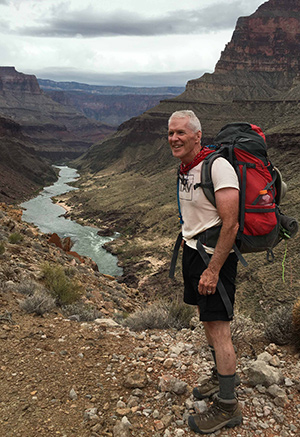 Daniel Quealy, 65, of Clarendon Hills has always been active, having played organized sports from grade school through college. His competitive juices eventually led him to play softball and racquetball and participate in marathons and triathlons. All of these things made Dan feel alive.
Over time, knee pain became his ultimate challenge. It became so severe that he depended on a daily regimen of aspirin just to get through a day. Eventually, the pain reached a crescendo when he had difficulty just walking and couldn't safely carry his grandkids. That's when he knew it was time to ask for help.
Quealy carefully researched options for treatment. With several family members in the medical field, he repeatedly heard that the patients of one doctor seemed to have more successful recoveries. That was Dr. Scott Sporer, a hip and knee replacement physician at Midwest Orthopaedics at Rush (MOR).
Read more at: www.rushortho.com
Daniel Quealy
---
My surgery went extremely well. My room was very comfortable and roomy. The care I received was excellent. My recovery went very well. My office visits also went well. Everyone was very friendly and accommodating. I would recommend Dr. Sporer and his team to anyone who needs a knee replacement. Thank you so much for helping me walk again.
Peggy T.
Feb 27th, 2016
---
After having both hips replaced within 2 years by Dr. Sporer, I strongly endorse Dr Sporer. He put me at Ease and both surgeries were flawless. I recovered from both surgeries within 6 weeks..Miracle!!! His staff, especially Lauren his PA were also delightful during the process and all follow ups. Thank you Dr. Sporer & Staff!!!!
Dan Kunkel
Feb 27th, 2016
---
I had a partial knee surgery ,two years ago. Still can't believe how good it feels ,able to play all sports. no pain at all ! Great staff and thanks -- , April. a real pro.
RANDALL J. KAMPER
Feb 6th, 2016
---
This doctor did an excellent job. I had no pain. I should have had the knee replacement than having the knees scoped previously. His staff did an excellent job. They were always there when I called.
Richard Carroll
Aug 29th, 2015
---
Took 2 months to get 1st appt, but when we met, felt at ease & confident in my surgeon choice right away. Full knee replacement in Oct 2014. Follow instructions, do PT religiously and it's all up to you on your outcome (IMO). Pain free from arthritis immediately, no surgical complications, scar beautiful (from what I've been told) & healing perfectly, Central DuPage Hospital fantastic. Following surgery, I meet w/ his PA, who spends MORE than enough time with me on questions, prognosis than Dr Sporer probably can. Never rushed when seeing her.
Adrienne
Jan 5th, 2015
---
I am so delighted with the out come of my hip replacement done by Dr. Spore and his staff. I was in the hospital only one day following my surgery. Received home health care as well as outside physical therapy. Through the whole process I experienced very little pain and am walking normally with no variance in both my legs length. I am back to my old self active and enjoying life. From a scale ranging from 1 to 5 with 5 being the highest. I would give Dr. Spore and his staff a 5 Thank You..
Irene A. Josupait
Mar 17th, 2014
---
I will choose this Dr if I have to have my hip done. He does wonderful work had surgery Jan 6 ..a week later I was walking with cane only for balance. 3weeks later I was walking into PT with no aid. The scar is so minimal. The entire hospital staff was exceptional. What a great group of people. Great customer service. I admire all of you and intend to write the Dr and hospital with all of your names. Thank you!
Roberta Lessner
Mar 16th, 2014
---
I'm writing this review after 1 year for one total knee replacement and two years after the other total knee replacement both surgeries performed by Dr. Sporer. My knees are functioning beautifully, are pain free. Besides being able to walk everywhere, I'm now able to alternate feet going up and down stairs, something of which I had been unable to do for years. I am 74 years old and had osteoarthritis of my knees since my early 30's. My only regret is that I didn't have my knee replacement surgeries sooner. I would highly recommend Dr. Sporer.
Mary Lynne Cunningham
Dec 27th, 2013
---
I appreciate the professional and prompt response from Dr. Sporer and his staff. I would and have recommend Dr. Sporer for knee replacement. Dr. Sporer saw me twice in the hospital after surgery and in the office after that. Thank heavens Dr.Sporer was recommended to me. My recovery was far better and faster than I ever expected. I was walking totally unassisted 5 days after surgery.
Jane Rasmussen
Jun 26th, 2013
---
People listen, this doctor and his Dream Team of a staff, gave me my life back! I need 2 total knee repacements. My 1st visit with Dr. Sporer was refreshing! He told me my prognosis, and answered every question. He didn't suggest unnecessary precedures, that would only raise my medical bill. I was in so much pain and frightned of the unknown. However, he and his colleagues / staff, from MDs, PAs, to the clerical, were there with me, supporting me all the way! Now, I'm walking, exercising, playing with my kids, and NO MORE PAIN!!!! Dr. Sporer and his Dream Team ROCKS!!!
Dec 25th, 2013
---
He had me walking with nearly no pain within three weeks of surgery
Jul 13th, 2012
---
Dr. Sporer did an emergency revision of a failed hip replacement due to broken femur. I later had him replace my other hip. The 2nd replacement was so different recovery wise from the first. I am more pain free than before the surgery. I would recommend him to anyone needing surgery.
Jan 30th, 2012
---
Excellant Doctor. Had both knees done within 8 weeks. Recovery was great. Pain control was good. Follow up was easy. He showed he was concerned about me. Staff was courteous and professional.
Aug 19th, 2011
---
I thank God this doc went to school for ortho speciality. I can walk again, without pain!
Jul 19th, 2011
---
I had seen several doctors and everyone told me nothing was wrong. Dr. Sporer listened to me and fixed my problem. I am very impressed with his surgical skill and the pride he takes in his work.
May 13th, 2011
---
Excellent surgeon. Outcome of hip replacement last year was perfect.
by V. Livak on Apr 19th, 2011
---
DR. Sporer worked me into his operating schedule at the last minute for my total knee replacement (which I appreciated immensely). But really, what one wants in a surgeon is competence & caring, and he is both. I had both knees done by him, 2 months apart, and my results were outstanding! The pain management was superb--I had very little post-op-and I barely needed rehab at all, since I could walk immediately and had a good 90 degrees of flexion within days. Can't recommend him highly enough!
Dec 20th, 2010
---
Excellent physician. Very caring and compasionate. I recovered much faster than all my friends after my surgery.
Jun 26th, 2010
---
Dr. Sporer gave my mom the chance to walk again. She hadn't walked for 2 years and now she is able to come to her grandkids games.
Thanks!
Apr 20th, 2010
---
at 50 yrs old i was a bit young for hip replacemants but i sure needed them. i had spent a year with a different orthopedic group trying to figure out if it was my back or hips that were causing the pain, dr sporer said i had to have back surgery first and sent me to see his partner dr singh when i asked for a referral. that surgery went well and then i had my hip replaced 5 months apart-i wish i had had it done years before, now i can keep up with my grade school kida and am back to work as a nurse.
Francie
Jul 8th, 2009
---
Dr. Sporer literally gave me my life back by performing a successful total knee replacement. After 3 unsuccessful surgeries with my prior doctor, I was skeptible about seeing any ortho. Dr. Sporer has restored my confidence in doctors. I know I'll need a knee replacement in the coming years on the other knee - I have no qualms about having Dr. Sporer do it. Thanks, Dr. Sporer!
Mar 23rd, 2008
---